The Cuban capital is one of the world's most unique destinations, combining the relics of centuries of colonial rule, stunning nearby beaches, the intrigues of more recent communist rule, and life under a decades-long US trade embargo, with an infectious street-level joie de vivre which is impossible to ignore. Should you find yourself with 48 hours in Havana, what should you do with your time? Read on to discover our top ideas for making the most of your time in the Cuban capital.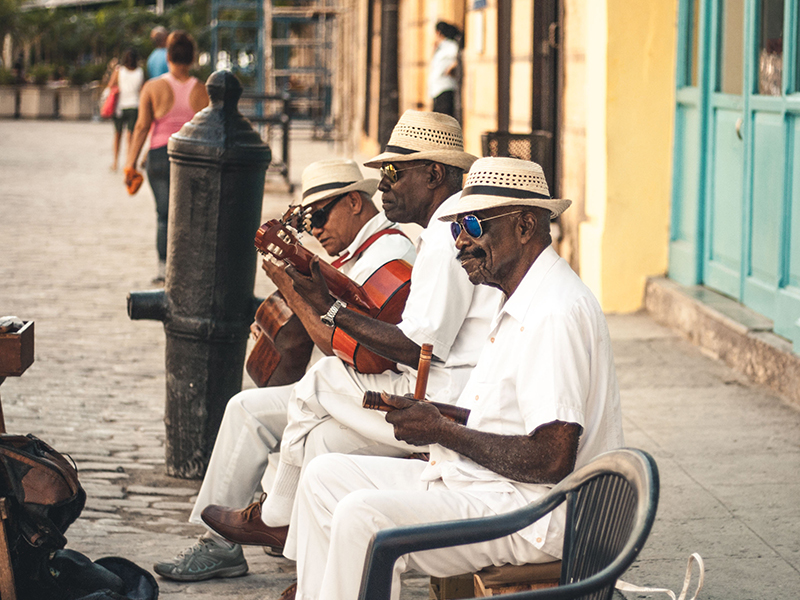 Get your bearings
With just 48 hours in Havana its important to waste no time and get your bearings as quickly as possible. We can think of no better way to do this than by jumping into the back of one of Cuba's famed vintage US car imports, which date back to the era before Fidel Castro's communist revolution of 1959. Head into the heart of the downtown area, Havana Vieja, taking in the major sights of Old Havana and neighbourhoods such as Vedado and Miramar as you do so. Alternatively, hail a bici-taxi from the centre of town for a tour. Local drivers cannot only provide an insiders' view of the city, but at a great price too!
Settle into your casa particular
These incredible family-owned bed and breakfast style establishments focussed squarely at tourists to the islands are without doubt the best places to stay while spending 48 hours in Havana, and a real highlight of the trip for many as well. Offering just a handful of rooms each, and varying in the amenities they provide from ultra-basic to luxury penthouses providing en suite bathroom facilities, wide-screen televisions, and air conditioning, casas are a great way to understand what life is like in the capital for the ordinary Cubans who so warmly welcome visitors to their homes.
Grab a bite to eat
Forget what you may have heard, Cuban food is declicious with richly-flavoured dishes comprising of staples such as meat, rice and beans. Perhaps the best and most authentic food can be found in paladares. Similar in set-up to casas, paladares are family-run house-restaurants serving not only delightful meals at good prices but also a place to sit while watching Cubans going about their daily lives.
Take in the sights
With an intriguing history dating back almost 500 years, Havana Vieja in particular has an incredible array of sights, best explored on foot. A UNESCO World Heritage Site since 1982, Old Havana has a fine bayside location too. You're bound to come across the most impressive sights naturally while just wandering through the squares and avenues that make up the downtown area, but ensure you don't miss the Capitolio building (once the home of Congress and with a similarity to the US capitol), Plaza de Armas, Gran Teatro, and Museo de la Revolucion. Not only does the latter do a fine job at detailing the country's revolutionary heritage, including exhibits from the Cuban Missile Crisis, but it is also situated within the architecturally phenomenal former presidential palace.
Enjoy a sundowner
There's probably no better place to enjoy an evening drink as the sun sets on your first day in Havana than the iconic bar of one of the capital's famed hotels, such as that of the seafront Hotel Nacional. With the country being the birthplace of both the mojito and the daiquiri – Hemingway's favourite tipple – its something of a must to enjoy a cocktail (or two) while visiting Havana.
Dance the night away
It would be rude not to! Spend even the shortest amount of time with local Cubans and you'll realise dance is something of a national pastime. The 'La Rampa' (bay end) section of 23rd Street is a top spot to head to for late night fun, with a choice of cafes, restaurants, bars, and clubs to choose between.
48 Hours in Havana – Day Two
Explore Hemingway's Cuba
Start your second day by exploring Hemingway's Cuba. The Nobel Prize winner Ernest Hemingway spent close to two decades in Cuba, and it was on the island that he wrote some of his most famous works, including For Whom the Bell Tolls, and The Old Man and the Sea. His home, Finca Vigia, lies on the outskirts of the capital, and is easily visited as part of 48 hours in Havana. Recently returned to its former glory, the farm contains many of the author's personal affects, as well as hunting trophies and his library of several thousand books. His boat, the Pilar, also lies in the grounds.
Hit the beach
Several fine beaches are within reach of the Cuban capital even with just 48 hours in Havana. While the most popular tourist beach is probably that of Varadero, with limited time its better to opt for the nearer Guanabo, a favourite of local Habaneros. The quickest way to get here is to grab a taxi from the corner of Agramonte and Mision.
Uncover the secrets of Cuba's most important exports
Make sure to leave enough time to uncover the secrets of Cuba's most important exports at Havana's Partagas Cigar Factory, and its Rum Museum. At the cigar factory you can learn more about the cultural significance of Cuba's cigars, beloved of Fidel Castro and President Kennedy alike, while at the Havana Rum Museum, housed in a grand former palace, you'll get to experience Cuba's other major export. There are plenty of tastings for the curious at both museums, and you can even buy some to take away with you. But if you're not into smoking or drinking, you'll still get plenty out of these visits.
Stroll along the Malecon
No visit to Havana is complete without a stroll along the Malecon. This 8 km seafront promenade comes into its own towards sundown as the lights come on and ordinary Cubans take to its pavements for an evening stroll, bringing your 48 hours in Havana to a fine conclusion.
Just 48 hours in Havana? No problem! We've perfected this itinerary over many months to give you a true sense of the Cuban capital however short your stay!