Cuba's unique political path together with its stunning Caribbean location and impressive colonial relics has made it an attractive destination for all manner of visitors for decades. Al Capone is reputed to have owned a mansion here, while Ernest Hemingway adored the cocktails, and John F Kennedy the cigars. Its even more recently received the royal seal of approval with a two day visit from Prince Charles, heir to the British throne. Here we give you the ultimate guide to how to spend 48 hours in Cuba, however blue your own blood.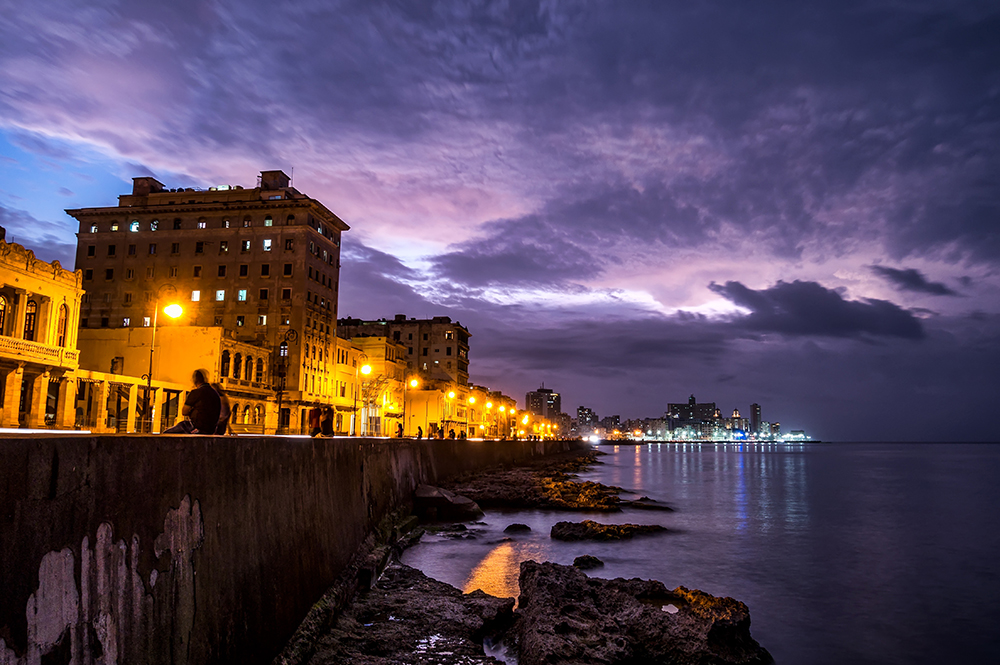 Hail a vintage taxi
Kill two birds with one stone by slipping into the back seats of one of Cuba's fleet of classic cars – imported from the US before the trade embargo took hold in the very early days of the 1960s – that now act as taxis. Whether you arrive at the country's main international airport in Havana, or one of its smaller airports, a journey in these iconic vehicles are not only a must of any time in Cuba, but also the perfect way to being any sightseeing tour as you make your way to your accommodation. The fine Cuban weather means opting for a rumbling convertible is the best choice – and provides the greatest scope for capturing your first photographs of the country along the way!
Swap your hotel for a casa particular
Long gone are the days when a government owned and run hotel was the only real accommodation option on Cuba! Thanks to the liberalisation of private enterprise laws an increasing number of casas particulares are opening their doors to visitors looking for a place to sleep across the island. Most closely akin to bed and breakfast accommodation, casas are firmly aimed at the tourist market – meaning you can be sure of a warm welcome. But more than this, they are owned and run by individual families, generally in their own homes. Each casa is therefore unique in how many rooms it offers, and what amenities are available, however you can be sure of a real insight into the lives of everyday Cubans. For many, the stay in a casa becomes the highlight of a trip to the island, whether you have 48 hours in Cuba or 48 days!
Eat with the locals at a paladar
The food equivalent of the casa particular, the paladar is a small family-run restaurant of just a few tables and small menu of traditional Cuban cuisine open to locals and visitors alike. Paladares come in all shapes and sizes and some can be so small they often lack names or proper signs. Keep an eye out for a price board hanging up outside, or just ask a local where you might find the nearest! Then forget everything you've heard about Cuban cuisine being dull, heavy, and uninspiring, and enjoy the fruits of a freshly prepared meal. Not only are these dishes incredibly good value, but they'll have your taste buds sizzling as you watch Cubans go about their everyday lives whether you order comida corilla – a meze like mix of various dishes on the one plate – a hamburger, or a pizza.
Hit the pavements to take in the sights
Swap your sandals for a stout pair of trainers or walking shoes and begin your explorations, with just 48 hours in Cuba you have no time to lose! With a history of Spanish colonial rule that dates back over 500 years, a pre-Colombian tribal history which dates to long before that, and the intriguing thread of history that has led from Fidel Castro's successful communist revolution of the late 1950s, you won't be short of sights to explore! Cuba also boasts more UNESCO World Heritage Sites than any other nation in the Caribbean, so wherever you find yourself during your 48 hours in Cuba you're sure to find something of interest. In the capital, don't miss Habana Vieja, the old town, with its wondrous architectural structures. Also not to be missed is the city's Museo de la Revolucion, detailing the heritage of the uprising against the US-backed Batista regime, Bay of Pigs invasion, and subsequent Cuban Missile Crisis.
Sip a cocktail as the sun goes down
Home to many a rum distillation factory, cocktails are almost ubiquitous across the island (along with some good brands of local beer) at incredible prices, and you won't have to travel far to find a perfectly mixed mojito, or a daiquiri – the favourite drink of Ernest Hemingway. To make it an extra special experience, why not head to the rooftop bar of one of the country's historic hotels, such as Havana's Ambos Mundos, from where you can watch the sun slowly sink over this incredible city.
Dance 'til your feet ache
Cubans love to dance. Possessing a natural rhythm that's the envy of the western world, you'll soon find yourself salsa-ing your way towards dawn in one of the here-today gone-tomorrow clubs that occupy the promenade end of Havana's Calle 23 – known locally as La Rampa. This is also the place to head to be certain of finding the capital's hippest of cafes, restaurants, and bars, open long into the night, while even outside of Havana you won't have to go too far before stumbling upon a jazz club.
Flop on the beach
After all that you're sure to need a little R&R time too during your 48 hours in Cuba. The Caribbean's largest nation has an almost endless list of fine beaches wherever you find yourself. If you're after a quick getaway from the capital grab a taxi from the corner of Agramonte and Mision streets and ask for Guanabo, a beach popular with local residents. Alternatively, make the slightly longer journey to the 20 km of pristine beach at Varadero, while the Bay of Pigs is a great spot combining history, snorkelling and sand outside of the capital.
48 hours in Cuba
Waste not a second of your 48 hours in Cuba with our ultimate guide of the best things to do with your time. Having read this, you'll be sure to get the most out of your stay, while being able to say you've seen and experienced authentic Cuba!