On a Hemingway Tour Cuba we take you on a journey, following the footsteps of one of the worlds greatest writers. The blog below provides a nice background as to what you can expect to learn and discover on our Hemingway tour.
With a passion for danger, love and adventure, Ernest Hemingway certainly left his mark on the world. Four marriages, two world wars and a Spanish civil war, extensive world travel and African safaris all contributed to a life worth documenting and no doubt the success of his renowned writing as well. All of these events strengthened the character of a man who always had something to say from a realistic, specific and deep point of view. Ernest Hemingway certainly was one of a kind – much like Cuba in that respect.
But why did the famous writer and journalist choose to spend almost 22 years of his life in Cuba? What were the origins of the special connection the man had with the country, making him consider himself a "Cubano sato" (garden variety Cuban)?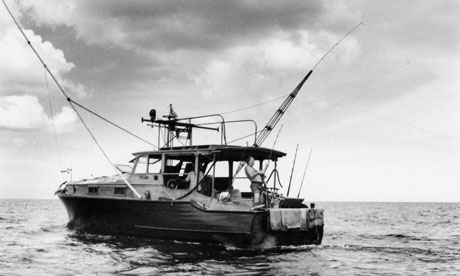 On a Hemingway tour in Cuba through Havana Tour Company we endeavour to answer these questions and more!
Hemingway visited Cuba for the first time in 1928 while on a layover as part of a trip to Spain. He had arrived from Key West – his home at the time with his second wife Pauline, their two sons Jack and Patrick, and Pauline's sister Jinnee Pfeiffer. The family group only had a 3 day stop over in Havana while waiting for their ship to depart from its next destination.
It wasn't until 1932 when Hemingway returned to fish for Marlin in Cuban waters. He came back again a year later and wrote his first chronicles on Cuba.From then on, he never again parted from the island and expressed: "I love this country and I feel like home. And wherever a man feels like home, apart from the place he was born in, that's the place he was destined to be."
It was in 1933 he purchased the Pilar, a fishing boat that was first used to navigate Cuban waters with Charles Cadwalader (the director of the Philadelphia Academy of Natural History), and Henry Fowler (the Academy's Chief Ichthyologist). These two men were in Cuba trying to identify the taxonomy of marlin species. Were White, Blue, Black and Striped Marlin in fact different species from one another, or just color variants of the same species? This was an important scientific trip, and after a month the representatives from the Academy of Natural History had enough information to reclassify all of the marlin species for the North Atlantic.
In the 1930s, Hemingway was a 'resident tourist' who used to spend the months of May, June and July in Cuba –Marline season. His first Havana refuge was the Ambos Mundos Hotel on Obispo Street, very near the seaport. This is one of the destinations visited on our Hemingway Tour in Cuba and the unnumbered guestroom on the fifth floor where he stayed on countless occasions remains intact. The "Marlin Fishing Close to El Morro" chronicle that found him back in the journalism trade (after remaining aloof from it for over a decade), highlights some of the habits and undertakings of the very famous Ambos Mundos guest. From the window of his room, he used to scan the surroundings: the Cathedral, the port entrance, Casablanca, the building roofs. The Cuban flag fluttering at El Morro could tell him where the wind was blowing from and the choppy sea could help him find out when the trade winds had arrived – perfect conditions for Marlin fishing. In his room at the Ambos Mundos hotel, Hemingway was in his element, perched above a bustling city area, so close to the seaport where he used to dock his boat.
During these times in Havana, Hemingway used to visit El Floridita many times (another destination on our Hemingway Cuba tour) – a friendly restaurant-bar in which space the writer enjoyed many a daiquiri while  taking the opportunity of talking with people from all over the world: sailors, diplomats, writers, doctors, sportsmen, FBI agents, bank managers, among others. It's in El Floridita where you will find a life-sized bronze statue of Hemingway leaning his elbow on the mahogany countertop. There were also other places in Havana that the novelist visited frequently too such as the La Bodeguita del Medio restaurant, where on the wall he wrote: "My mojito in La Bodeguita, my daiquirí in El Floridita." On our Hemingway  Tour in Cuba, you can see these very walls and taste the same mojito – delicious!
In 1940 Hemingway and his third wife, Martha Gelhorn, bought Finca Vigía, the only real 'home' the author had in his lifetime. The house is located in a small, modest suburb of Havana named San Francisco de Paula – approximately 9 miles from the capital city. Fidel Castro, who admired Hemingway and met him personally during one of the marlin fishing tournaments the author used to organize, proposed the house to be turned into a museum, a suggestion accepted by the novelist's widower. On our Cuba Hemingway Tour we travel to the house, to see the only place the great writer called home.
But the main secret about Hemingway's connection with Cuba is related with his literary works. Hemingway wrote more novels in Cuba than anywhere else and also his most famous pieces. "I always had good luck while writing in Cuba…" he wrote in a letter.
In 1949, he explained in a chronicle the reasons behind his long stay in Cuba: "You live on this island (…) because in the morning breeze you can work better and more comfortably than anywhere else." It was there where he completed For Whom the Bells Toll and where he wrote Through the River and Among the Trees. The Old Man and the Sea, Hemingway's most famous Cuban novel was also completed in Cuba alongside Paris Was a Party. Islands in the Stream, where part of the plot takes place in the country, was another of his works, as well as an unfinished novel entitled The Eden Garden. Hemingway also wrote plenty of articles and chronicles for periodicals, including a feature report entitled A Bloody Summer about the tug-of-war between bullfighters Antonio Ordonez and Luis Miguel Dominguín.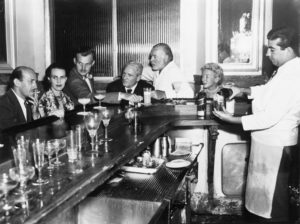 Shortly after Hemingway learned he'd won the Nobel Prize, he said in an interview: "This is a prize that belongs to Cuba, because my work was both thought up and written in Cuba, with my people from Cojímar where I'm a citizen. Through all the translations, this adopted homeland where I have my books and my home is always present." Cojímar citizens admired and loved the novelist, calling him "Papa".
The Old Man and the Sea, deserving of a Pulitzer Prize in 1954, is a Cuban chronicle based on a real character: a Cojímar fisherman named Anselmo Hernández. The novel's anecdote is well known – "Man is not made for defeat. A man can be destroyed, but not defeated." The novel's setting is the sea and the old man's fight against the shark that eventually snatched his catch; man's struggle for life. "I tried to build a real old man, a real youngster, a real sea, a real fish and real sharks. But if I built them well and real enough, that could mean a lot of things. When you write well and sincerely about something, later on that something means a lot of other things."
Hemingway's will, as the novelist desired, was read in Havana, the city that caught him and became his endless truly love.
On a Hemingway tour Cuba with Havana Tour Company you can learn all about Hemingway's past and his relationship with Cuba. Visit the famous bars which served his beloved cocktails, and the house he called 'home'. Don't wait to book!